Season 2: Eastbound and Down Chapter 12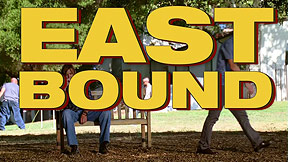 Episode Guide / Summary
We catch up with Pat Anderson, who's in rehab, and the next step in his recovery is Step 9 — to make amends. He tells his sponsor (that's Jody Hill by the way) that he is going down to Mexico to make things up to another person he has wronged. That would be Kenny Powers.
Back in Mexico, Kenny tells Stevie they are going back home, and he will allow Stevie to have sex with Maria one final time before they go. When Kenny goes upstairs, Pat is waiting for him, and offers not only an iPad gift basket, but also a possible shot at the majors from a scout he knew from his circuit party days.
The only problem with Pat's plan, is that Kenny was kicked off the Charros, and cannot audition for the scout. Kenny needs help getting back on the team, and goes over to Sebastian's "to kick his ass and ask for a favor". After a Mexican Standoff, Sebastian and Kenny realize that Vida played them both, reflect on their pains and sorrows, and then Sebastian agrees to let him back on the team.
Since Stevie views Kenny Powers as the father to all of the Mexicans in the village, he asks for his blessing to marry Maria and bring her home with them to America. Kenny understands how Stevie feels about Maria, and that he also found what he was looking for in Mexico.
When their talk is over, Maria gives Kenny a gift. It's basically his famous cowboy formalwear, only in all white, with "Flama Blanca" stitched into the shoulders, and silver flames on the sleeves. Kenny Powers loves her handmade gift, since it makes him feel re-born, and Jesus-like.
In his new outfit, Kenny Powers tells Catuey he is heading out to go settle some scores. His first stop is the cockfighting arena, where he frees all of Aaron and Hectors chickens, and then blows their truck up. Next is a visit to Vida, where he apologizes for his actions, but also lets her know that she can't challenge his core beliefs - he's a tit man after all.
The last stop on Kenny's tour is the Charros clubhouse. Roger questions how much baseball means to him, and Kenny promises no theatrics if they let him return to play one more game. Kenny explains that he regrets how he left things with Roger and the team, since he built them up, and then abandoned them. Kenny pleads with the team to help Kenny Powers' dreams come true, and they all agree to help. As the coach put it, they are all Mexicans tonight.
Kenny Powers takes the mound for the game with an all white glove. He strikes out the first batter he faces, and the crowd finally appreciates him for what he is — a ballplayer. After the game, Roger Hernandez gives Kenny the game ball, and then has a meeting with the scout who came to watch him pitch.
The Texas Rangers scout, Roy McDaniel, liked what he saw, and offers Kenny Powers an opportunity at the Texas AA Myrtle Beach affiliate for next season. Kenny wants a faster track to the majors, but accepts the offer. Kenny hurries to Stevie and Maria's wedding, and after Catuey fixed up the Denali, all three of them get in the car, and say "adios" to Mexico.
Stevie's Best Moment(s)
Stevie gets married to Maria in this episode. Congratulations, Stevie...
But that was not his best moment. That happened when he and Kenny were talking about making things more exciting with Maria in the bedroom. But Stevie said he does not like going down on her because of the smell, and then Kenny talks him out of ATM.
Buy Eastbound and Down Merchandise
Available in standard DVD or Bluray hi-def,
or digital format from the iTunes store.
Find your favorite design with the show
opening title, or baseball logo.