Season 3: Eastbound & Down Chapter 16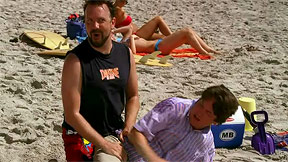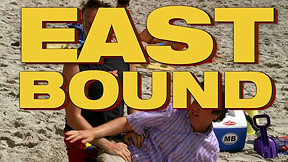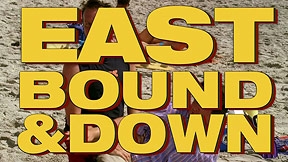 Episode Guide / Summary
Stevie is super pumped to be in Myrtle Beach!
After Shane busts Stevie's balls about the cannonball in his tailgate, the table is set for some jealousy, since Stevie is envious of Shane's relationship with his idol Kenny Powers. Too bad Stevie does not know he is wasting energy worrying about it, but more on that later.
Back at the house, Kenny Powers walks Stevie and Maria through immediate changes that need to be made to the home. All weapons in the dojo must be stashed for a child friendly room, as well as their sleeping quarters having separate beds. With some encouragement from Maria, Stevie lays down some new ground rules for his return to Kenny Powers' employ.
He will no longer put Kenny on a pedestal, won't loan him money, and everyone is to be treated equal. Kenny laughs these regulations off, and tells both of them not to expect too much fun, since they are now Toby's parents. During this conversation, Toby was using a bottle of pills for a rattle, while girl on girl porn played on the TV.
At the baseball field, Texas scout Roy McDaniel pays a visit to Kenny, but not for a major league call up. Roy wants Kenny to mentor a Russian pitching prospect named Ivan Dochenko, who has a fastball clocked at 102. Right away Kenny feels threatened by the phenom, insulting the player and his country during their introduction.
Needing an ego boost, Kenny pays his college girlfriend Andrea a visit for some validation. He explains that whenever times are tough, he needs to know he can count on the power of a beautiful woman by his side. She whimsically agrees to help, and meanwhile Stevie and Maria get their own Revenge of the Nerds montage song while cleaning the house and decorating the baby's room.
At the beach, Shane and Stevie have a pissing contest over who is the better friend to Kenny, and Shane warns Stevie not to get in the way. After a brief lesson on the history of Poseidon and his weapon of choice, the trident, Kenny Powers explains to Ivan that he is going to teach him some lessons that can't be taught.
He's trying to haze Ivan, who isn't falling for it, telling Kenny he won't take lessons from a has been. That comment sets Kenny Powers off, threatening to be-head the Russian with the trident. Kenny ditches Ivan at the deserted building, and interrupts Andrea's college lecture to collect on her promise to believe in him.
Realizing he caused an embarrassing scene, Kenny returns home to the newly remodeled baby room. Stevie is proud of his handy work, but Kenny trashes his efforts to make himself feel better. Stevie's feelings are hurt, and Kenny admits that he is nervous about the Russian threat. Recalling their high school days, and recent victories, Stevie delivers a fiery, motivational speech to Kenny. He wants to be inspired, and Kenny Powers is ready to destroy.
Later that night at the game, Kenny Powers is brought in to get the save. With a 5 run lead, and the bases loaded, Kenny's 0-2 pitch gets hammered over the left field wall for a grand slam, reducing the Mermen lead to 1 run. Kenny may have been distracted by Stevie, who lifted Toby up in the stands like he was Simba from the Lion King.
Kenny Powers gets pulled from the game, leaving Ivan to get the save on 3 straight fastballs. The crowd is impressed, but Kenny Powers is not. Trying to cheer up, Kenny and Shane do a bunch of post game cocaine, chanting "never say die" for motivation. While Kenny is busy dancing to "Walk Like an Egyptian", Shane drops dead from a cocaine overdose.
Stevie's Best Moment(s)
The best episodes are always Stevie centric, and Mr. Janowski was on fire this chapter. Honestly, there are too many moments of his to choose a best, but here are the highlights:
Yelling "surf's motherf*ckin' up, nigga", trying to lay down his new rules, "party like the fuuuuuuuuck", keeping his "eye on balls as well", not to mention Revenge of the Nerds montage with Maria.
But perhaps the most important moment came in his motivational speech to Kenny Powers:
And I guess all that coolness, and cockiness has transformed. But its transformed into something far more powerful. Battled hardened confidence. Now I have seen you face adversity with April, your career, marketing, and Mexicans. And you always emerge victorious. I didn't just come down to Myrtle for adventure and possibly cheating on my wife. No. I came down here to be inspired.
Kenny Powers' Parenting Skills
1. If you need to go surfing, dig a hole in the sand at the beach to hide your infant inside. That prevents kidnappers.
2. A bottle of prescription drugs makes a perfect rattle.
3. Even baby boys like watching girl on girl porn.
Buy Eastbound &amp Down Merchandise
Available in standard DVD or Bluray hi-def,
or digital format from the iTunes store.
Find your favorite design with the show
opening title, or baseball logo.